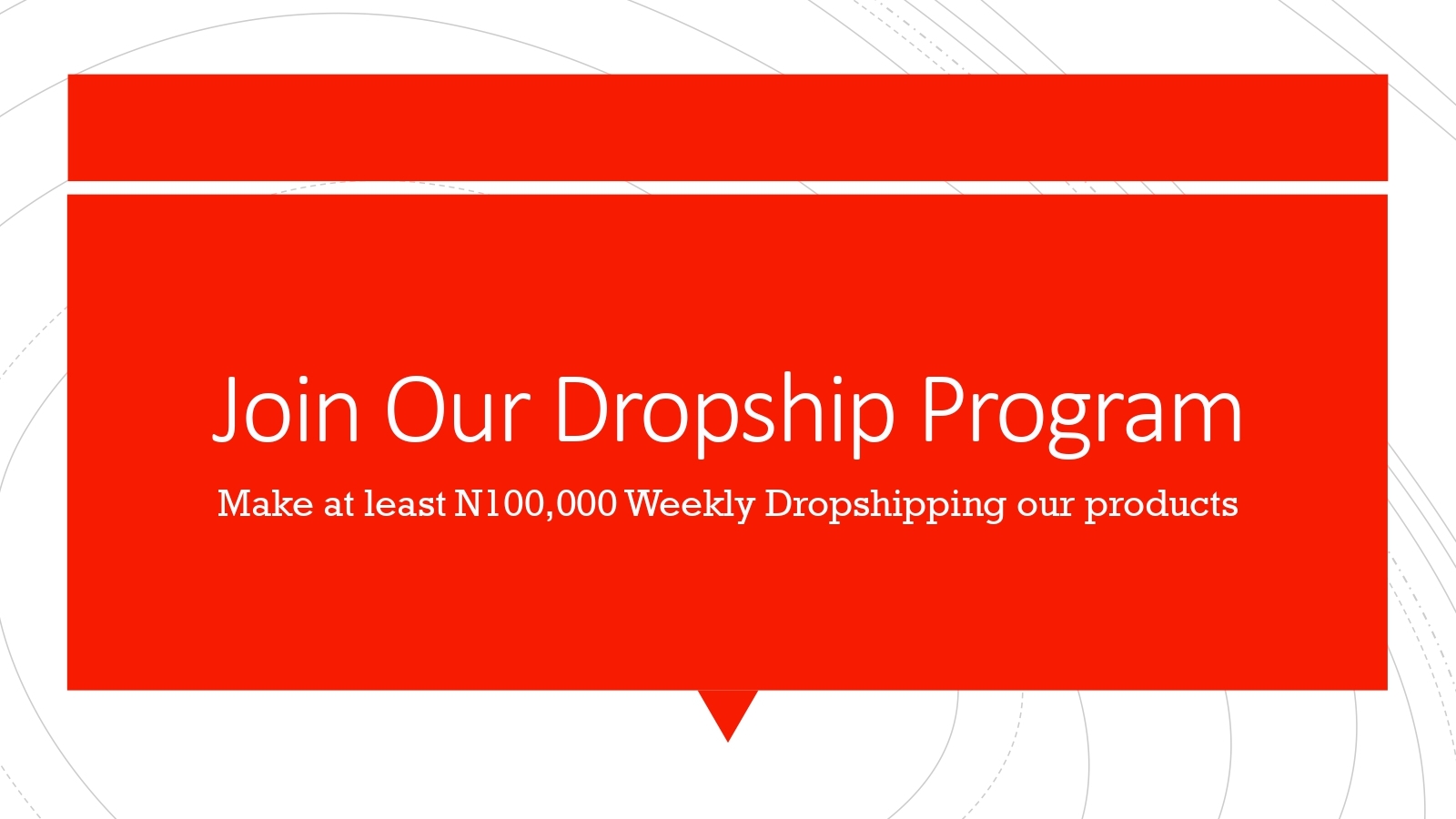 Are you a resident of any of the following cities: Abuja, Port-Harcourt, Enugu, Owerri, Kano, Kaduna, Katsina, Benin, Lagos, Ibadan, Abeokuta, or any other major city in Nigeria?
Are you looking for a profitable business to start?
Here is an opportunity to start a lucrative business by joining our dropshipping program, earning at least N100,000 Weekly.
No Capital is Required! And we will give you a Free Website to get started.
What is Dropshipping?
Dropshipping is an e-commerce business model that has gained massive popularity among marketers and entrepreneurs over the past 5-10 years.
Dropshipping essentially allows anybody to start a business by reselling other people's products at wholesale price and selling at retail price thereby keeping the profit.
If you're interested in dropshipping our wristwatches, you're in luck! We are now accepting applications from people looking to start a profitable business with little or no capital.
How Does Our Dropshipping Program Works?
Start by submitting your application to be a drop shipper by clicking on the signup button at the end of this page to register.
We will evaluate your application and decide if you are eligible to be a part of our dropshipping program.
Once we accept you, we will send you an email welcoming you onboard, open your website where you will be selling your products and share our wholesale pricelist with you.
So you drive people to your website, they place orders for their desired watch at the price you set.
As you make sales in your store, you would then transfer those orders to us at the wholesale price we shared with you and we will ship the products directly to your customers. Then you keep the profit!
We will deliver the product to your customer within 72 hours wherever they are.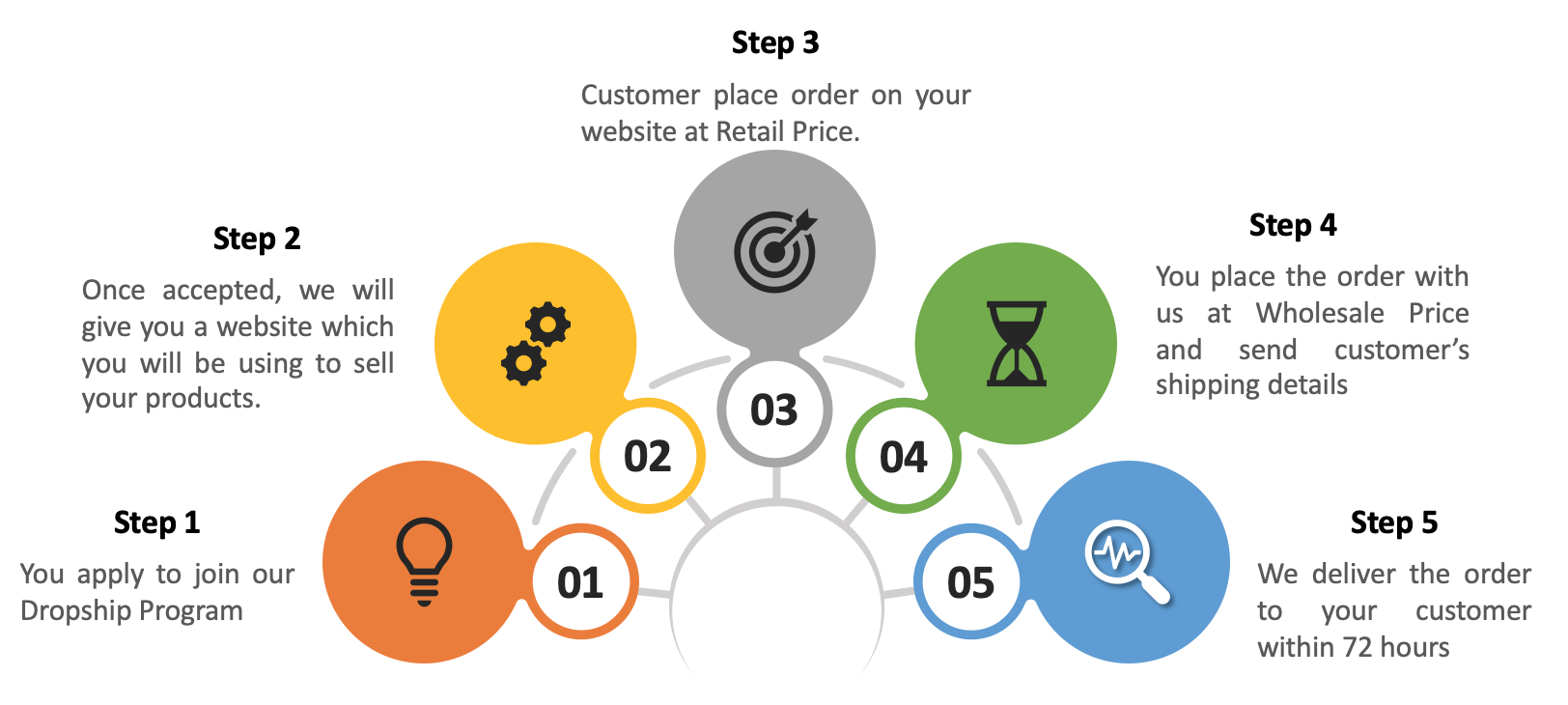 How Much can I make on One Product?
Your average profit on one product is about N4,000.
Sell 25 products in a week and you have made N100,000 easily.
How Many sales am I expected to make?
You are expected to make at least 10 sales a month.
What Happens If I do not Meet Target?
If you are unable to meet the target, we will terminate your application and give the website to another motivated person that is able to meet the target.
How Many People are Needed?
This program is only open to 50 people across the country. Application closes when 50 people sign up.
If you have any question, you can chat with us on WhatsApp 09090447364
TERMS & CONDITIONS
To join our dropship program, you are required to provide all the mandatory details on the signup form.
Our store only reserved and proceed the order for resellers once received payment. Our stocks are live updates. You may check for stock availability on our website for each product.
Reseller selling price must be at least the same or higher than our retail selling price and we will from time to time check it to prevent the mess of market price and price war. Resellers are allowed to sell higher than our retail price to protect self-profit as resellers have no stocking and modal pressure.
Resellers shall pay for the delivery fee. Hence, the delivery fee must have been charged to the customers
Resellers are to place orders with us immediately after they receive an order from a customer. This will ensure we process the order as soon as possible and get delivered to the customer.
Resellers are responsible to follow up on your own customer's parcel status in case any delay occurs in shipping. You may check and follow up on the tracking number from our delivery partners Redstar and Ace
We have the right to terminate the relationship of dropship reseller who is unable to meet the monthly target of 10 sales. This is to prevent wasting both of our time and not so serious seller.
All above term & condition is under naviforce.com.ng interpretation. If become our reseller means you fully agree to our terms & conditions above. We can always change the terms and conditions without prior notice.